jSDM package
jSDM is an R package for fitting joint species distribution models (JSDM) in a hierarchical Bayesian framework.
The Gibbs sampler is written in C++. It uses Rcpp, Armadillo and GSL to maximize computation efficiency.
| | |
| --- | --- |
| Type: | Package |
| Version: | 0.2.1 |
| Date: | 2019-01-11 |
| License: | GPL-3 |
| LazyLoad: | yes |
The package includes the following functions to fit various species distribution models :
In this vignette, we illustrate the use of the jSDM R package which aims at providing user-friendly statistical functions using field observations (occurrence or abundance data) to fit jSDMs models.
Package's functions are developed in a hierarchical Bayesian framework and use adaptive rejection Metropolis sampling algorithms or conjugate priors within Gibbs sampling to estimate model's parameters. Using compiled C++ code for the Gibbs sampler reduce drastically the computation time. By making these new statistical tools available to the scientific community, we hope to democratize the use of more complex, but more realistic, statistical models for increasing knowledge in ecology and conserving biodiversity.
Directed Acyclic Graph (DAG)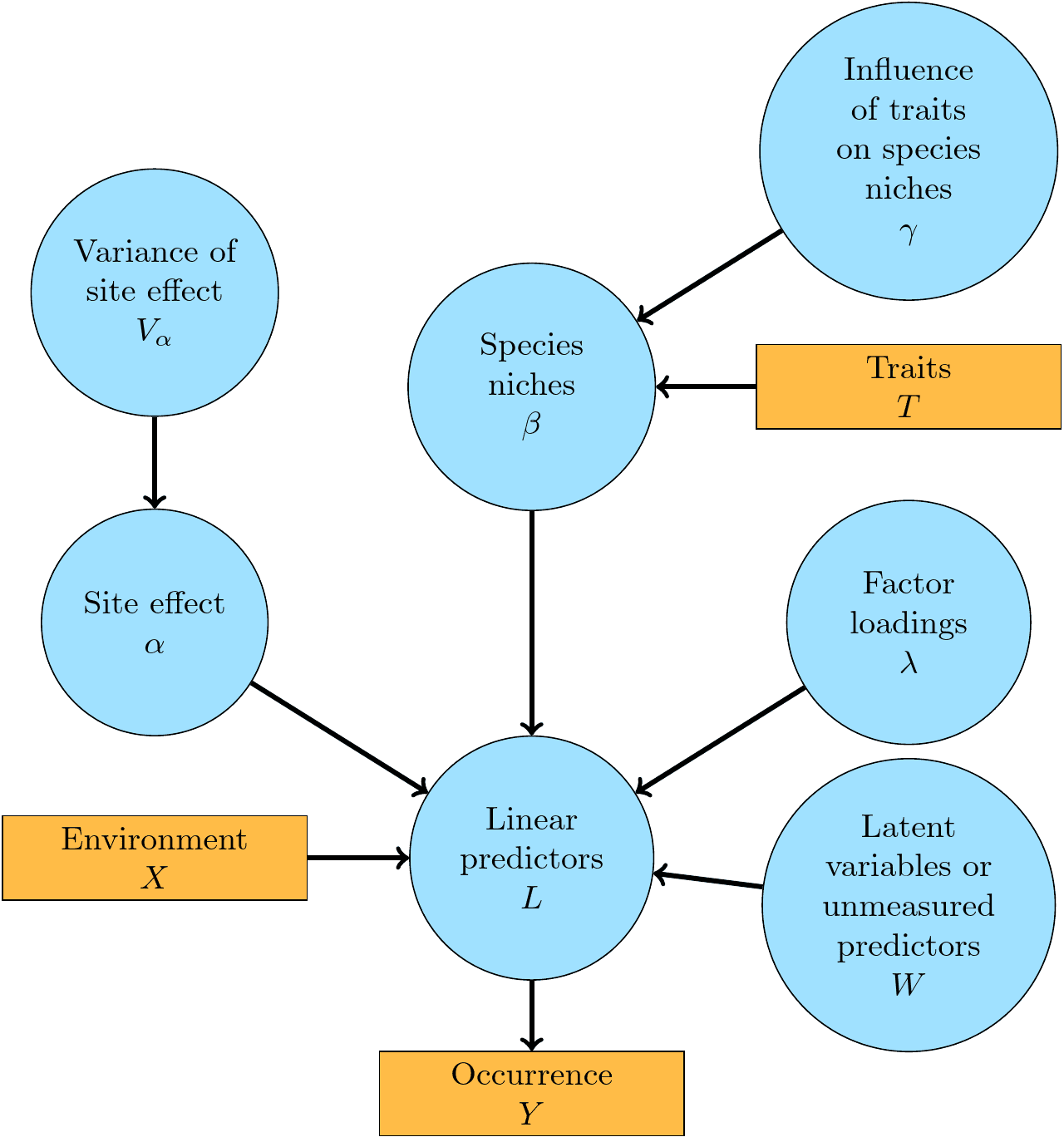 Model types available in jSDM R package are not limited to those described in this example. jSDM includes various model types for occurrence and abundance data, you can find more examples of use on the jSDM website.
Load librairies
We first load the jSDM library.
Bernoulli probit regression
Below, we show an example of the use of jSDM-package for fitting species distribution model to occurence data for 9 frog's species.
References
Albert, J.H. & Siddhartha, C. (1993)
Bayesian analysis of binary and polychotomous response data
.
Journal of the American Statistical Association
,
88
, 669–679.
Gelman, A. & Rubin, D.B. (1992)
Inference from

Iterative

Simulation

Using

Multiple

Sequences
.
Statistical Science
,
7
, 457–472.
Warton, D.I., Blanchet, F.G., O'Hara, R.B., Ovaskainen, O., Taskinen, S., Walker, S.C. & Hui, F.K.C. (2015)
So many variables: Joint modeling in community ecology
.
Trends in Ecology & Evolution
,
30
, 766–779.
Wilkinson, D.P., Golding, N., Guillera-Arroita, G., Tingley, R. & McCarthy, M.A. (2019)
A comparison of joint species distribution models for presence-absence data
.
Methods in Ecology and Evolution
,
10
, 198–211.